Specialized Driving Privileges
A  suspension of driving privileges imposed by a court or the BMV may be stayed if a court grants a Specialized Driving Privilege (SDP). The SDP must remain in effect for a minimum of one-hundred and eighty (180) days and may include conditions such as the use of an ignition interlock device and/or restricted driving hours and/or routes. IC 9-30-16-3.
This license may be available for a person with an OWI administrative suspension, OWI suspension at sentencing, and for many other types of suspensions.
Habitual Traffic Violators (HTV) with five (5) year, ten (10) year, and even lifetime HTV license suspensions may be eligible for the SDP.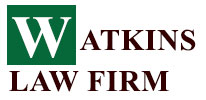 John Watkins Attorney at Law
116 E. Berry Street 910 Lincoln Tower
Fort Wayne, IN 46802
(260) 755-5008 (260)755-3317 Fax
Legal Disclaimer: The information contained on this page is intended for general informational purposes only and is not intended to be nor should it be taken or relied upon as legal advice. The information does not create an attorney-client relationship between you and the attorneys. The Watkins Law Firm makes no representation that the information on this page is current and expressly disclaims any information on this page as sufficient to be relied upon in making any legal decision. If you need legal assistance or advice, call us for a consultation.